Devotion
QT: *Baited, Reeled, Caught: Avoidable?* James1:14—16 Week 38: 15/09/2023. Fri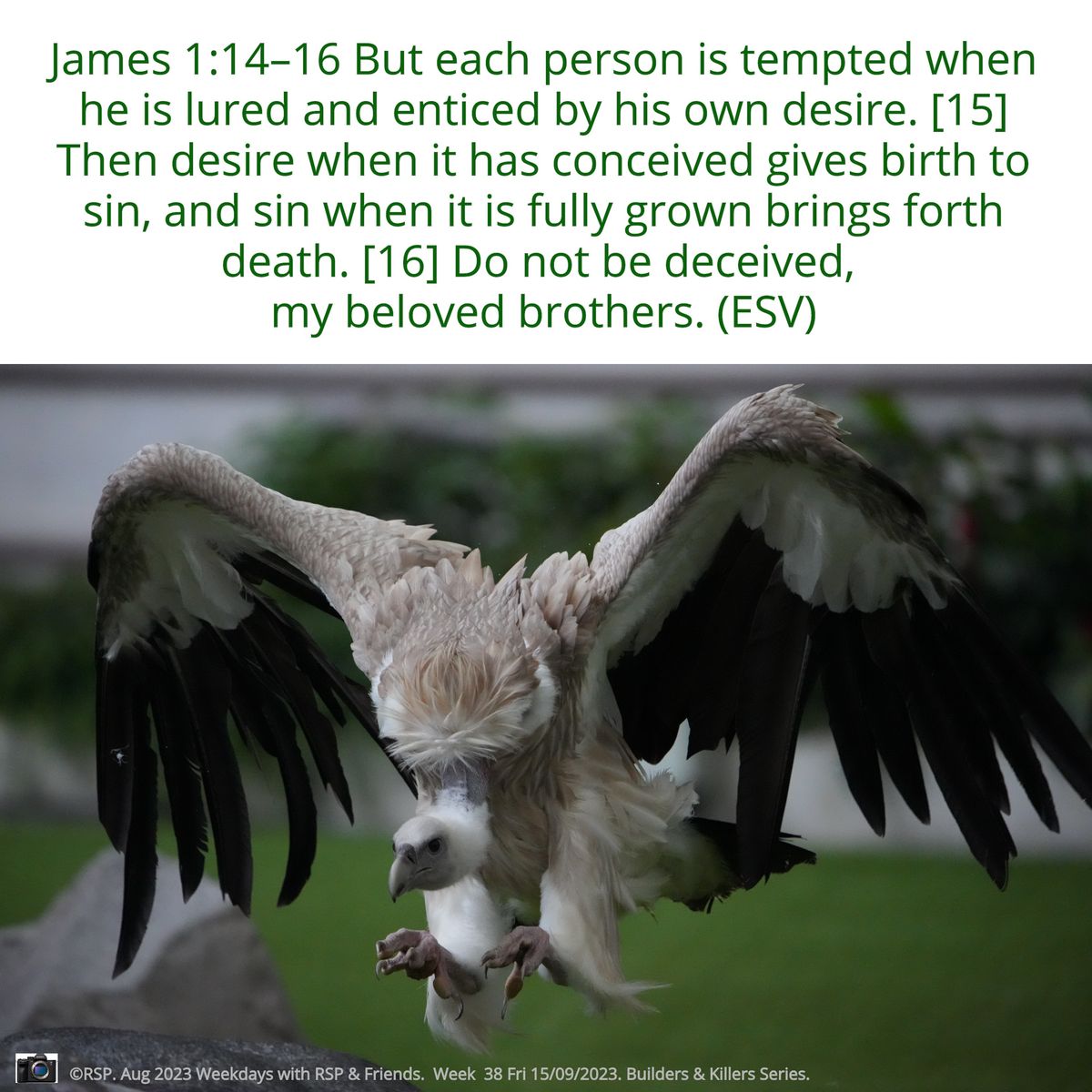 Baited, Reeled, Caught: Avoidable?
https://www.esv.org/James1:14—16
Week 38: 15/09/2023. Fri
(1) Bait the fish, (2) Reel it in, (3) Catch it. The inevitable end of the fish, but the start of a nice seafood barbecue for the hunter.
James 1:14–16 But each person is tempted when he is lured and enticed by his own desire. [15] Then desire when it has conceived gives birth to sin, and sin when it is fully grown brings forth death. [16] Do not be deceived, my beloved brothers. (ESV)
James uses his fishing vocabulary to urge believers everywhere, as they live out their faith in a challenging world, to avoid traps but grow in maturity. The three (3) steps also apply to the dangers of falling into Satan's traps hunting for spiritual casualties:
(1) "Lured" by his own desire—the lure is the same technical term used today at fish shops. Humans have desires, but a lure (bait) makes use of a human desire (like a fish's hunger) that has gone wrong, gone astray, suka suka any old how whack;
(2) Because the lure HIDES the hook, the believer can't see it—UNTIL "it has conceived gives birth to sin". "Conceived" (like human conception), points to the inevitable development trajectory of giving birth (the baby is born);
(3) "Catch" points to the fully grown end point of "death". There is no escape.
Therefore, James exhorts believers to deploy early counter-measures against taking on a desire conceiving and actualising into sin, growing fully into death. Some of us are "alive" but already feels dead. Do not despair.
In Jesus Christ there is hope. But grasping this hope starts in small ways—recognising the "smallness" of the devil's hidden hooks, yet a hook that is strong enough to pull the whole 300 kg tuna, let alone a 70kg human, onto death.