Devotion
QT: Begging Jesus to go away? How can! Mark 5:15–18 Week 38: 13/09/2023. Wed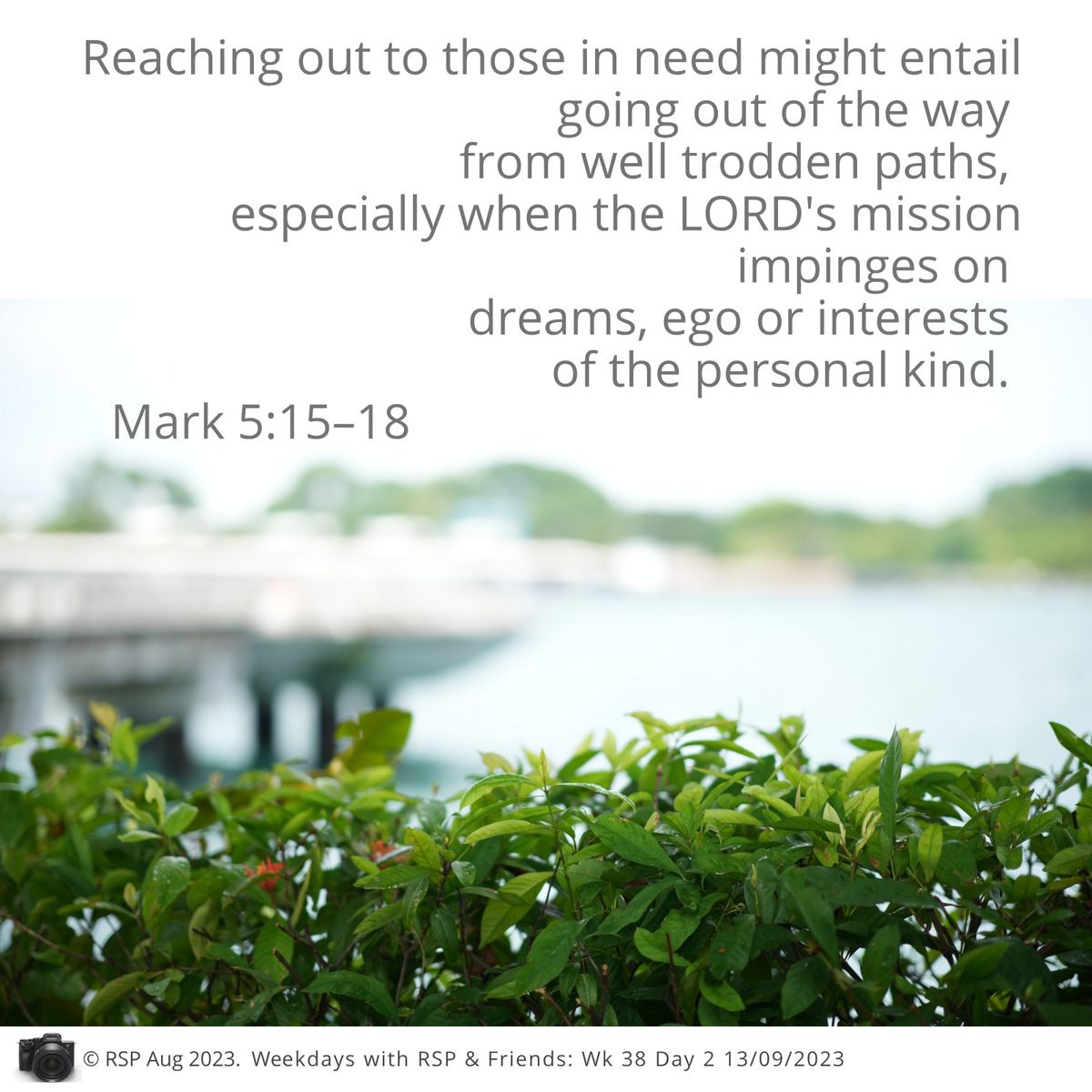 Begging Jesus to go away? How can!
https://www.esv.org/Mark5:15–18
Week 38: 13/09/2023. Wed
What! Begging Jesus to go away? This was surprising. People usually pray to God for His presence to be with them. But in Mark 5, we saw the opposite after Jesus performed a miracle. What happened?
_Mark 5:15–18 And they came to Jesus and saw the demon-possessed man, the one who had had the legion, sitting there, clothed and in his right mind, and they were afraid. [16] And those who had seen it described to them what had happened to the demon-possessed man and to the pigs. [17] And they began to beg Jesus to depart from their region. [18] As he was getting into the boat, the man who had been possessed with demons begged him that he might be with him. (ESV)
The ironies of an overturned upside down world have many of such surprises. Jesus had done a great deed—the unclean spirit had been cast out (Mark 5:13), even though the person possessed could not be subdued, "not even with a chain" (5:3) or shackles (5:4). The demon possessed person could break these "in pieces" (5:3).
But now, after Jesus' intervention, the demon-possessed man was now "sitting there" and "in his right mind". The response should have been to acknowledge the miracle and acknowledge the deity of Jesus. Instead "they began to beg Jesus to depart from their region" (5:17). This was due to the ministry of Jesus being in conflict with their self-interest. Jesus' works had indirectly caused them economic loss because their pigs had drowned (5:13).
Thankfully, we saw another kind of "begging"—the healed man "begged him [Jesus] that he might be with him" (5:18). While enrolling another follower was a positive thing, there was a more important task for the healed man. Jesus told him to go home to testify for Him among the man's friends about the LORD's deeds and mercy (5:19).
APPLICATION: Reaching out to those in need might entail going out of the way from well trodden paths, especially when the LORD's mission impinges on dreams, ego or interests of the personal kind. Who or what is there at your "bottom line"?