Devotion
QT: Builders & Killers Series. Day 02: Numbness Against Killer Adultery. 1Corinthians6:9 Week 36: 30/08/2023. Wed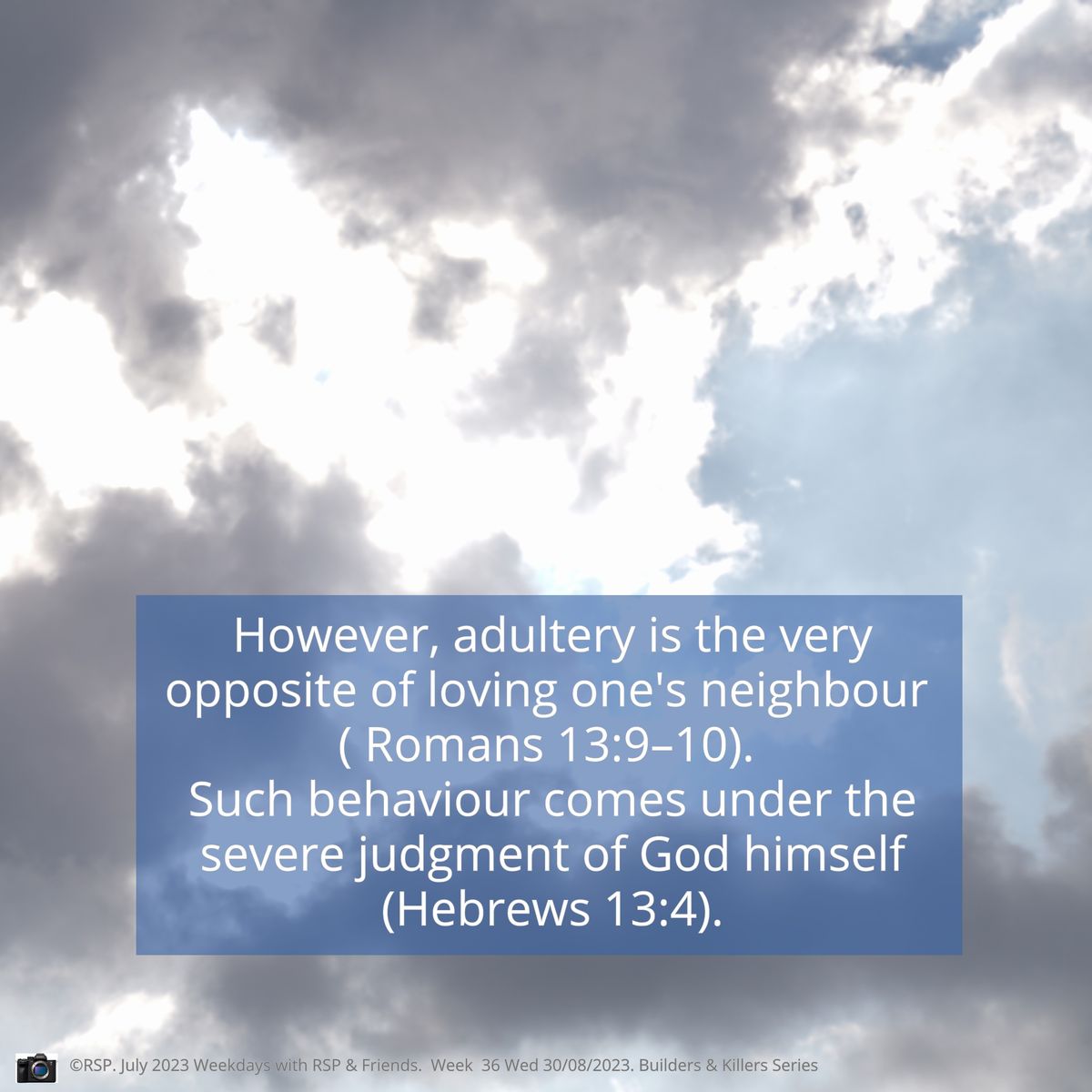 Builders & Killers Series.
Day 02: Numbness Against Killer Adultery
https://www.esv.org/1Corinthians6:9
Week 36: 30/08/2023. Wed
With the advent of the world wide web and the distribution efficiency of contents thereof, emotional adultery becomes more easily actualised than before. The web served many positive purposes but also provided a slippery down slope for viewers to fantasize and get involved in emotional adultery more easily than before. The pervasiveness of this sin might have numbed believers into being less alert of this killer.
1 Corinthians 6:9 Or do you not know that the unrighteous will not inherit the kingdom of God? Do not be deceived: neither the sexually immoral, nor idolaters, nor adulterers, nor men who practice homosexuality, (ESV)
Yet Paul in the NT spoke clearly of condemnation of adultery. If the person(s) caught by it or waddled within it do not repent, Paul noted that adultery would eventually exclude the practitioner from God's kingdom, a serious matter and consequence.
Materials promoting or even glorifying adultery are on the increase. Furthermore, those who are against adultery are more frequently now portrayed in bad light with various condescending labels. However, adultery is the very opposite of loving one's neighbour (see Romans 13:9–10). Such behaviour comes under the severe judgment of God himself (Hebrews 13:4).
Reflection: Do news of adultery, within or without the circle of believers, shock you more or less now than in the past? Can we reactivate the spiritual sensitivity against adultery and all those activities, behaviours or values that might lure believers into it?