Devotion
QT: National Day and national strength (part 1) Deut17:20 Week 33: 10/08/2023. Thu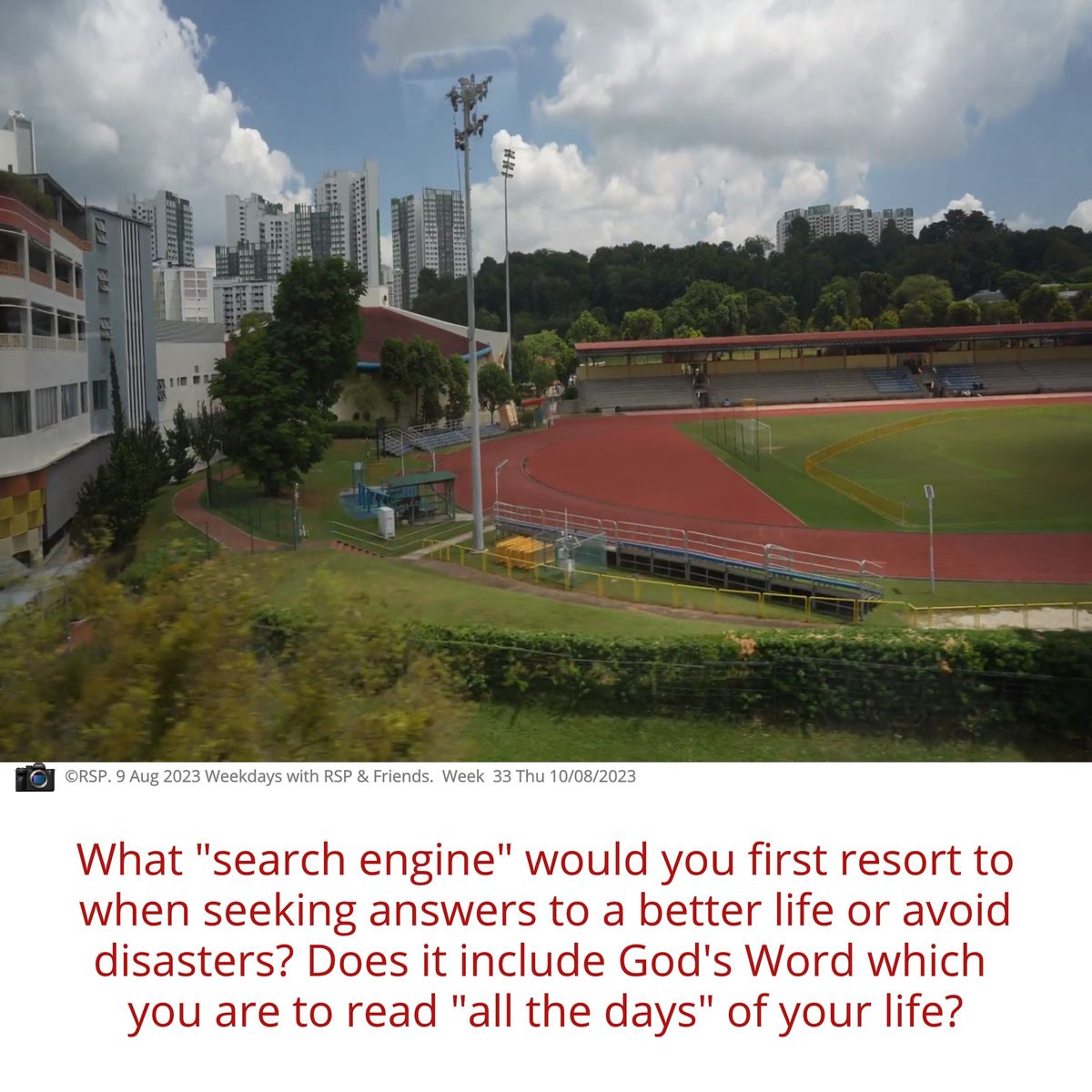 National Day and national strength (part 1)
https://www.esv.org/Deut17:20
Week 33: 10/08/2023. Thu
How can we seek national strength and a good life? It is more than good infrastructure, facilities or the ability to scramble F-16s yesterday near Changi when faced with intrusions.
https://www.channelnewsasia.com/singapore/f-16-jets-scrambled-helicopter-mindef-changi-airport-operations-3687481
A theological understanding of kingship, nationhood and measures to enhance longevity of nationhood and people's livelihood is not new. In the time of the desert wandering by Israel in OT, Moses showed them how.
Firstly, in seeking spiritual counsel for what to do and what not do, the people of Israel were not to resort to or seek consultation with magicians and practices of the occult (see Deuteronomy 18:9–14). There are plenty of modern equivalents of these. Be careful.
Deuteronomy 17:19 And it shall be with him, and he shall read in it all the days of his life, that he may learn to fear the LORD his God by keeping all the words of this law and these statutes, and doing them, (ESV)
God's wrath was incurred and were under divine judgment when other nations before Israel practiced "these abominations" and therefore "the LORD your God is driving them out before you" (18:12). The wise will take warnings from the failed examples of others.
Still worried about no guidance to walk in God's ways? There was no need to seek "false prophets" because the LORD promised that He would provide His people with a continuous supply of prophets like Moses himself (Deut 18:15–22), who would speak truth that comes from God. These prophets' authenticity would be tested by the fulfilment of their prophets about the future happenings.
Reflection: What "search engine" would you first resort to when seeking answers to a better life or avoid disasters? Does it include God's Word which you read "all the days" of your life?