Devotion
QT: Purpose and Property Neh11:1–36 Week 35: 22/08/2023. Tue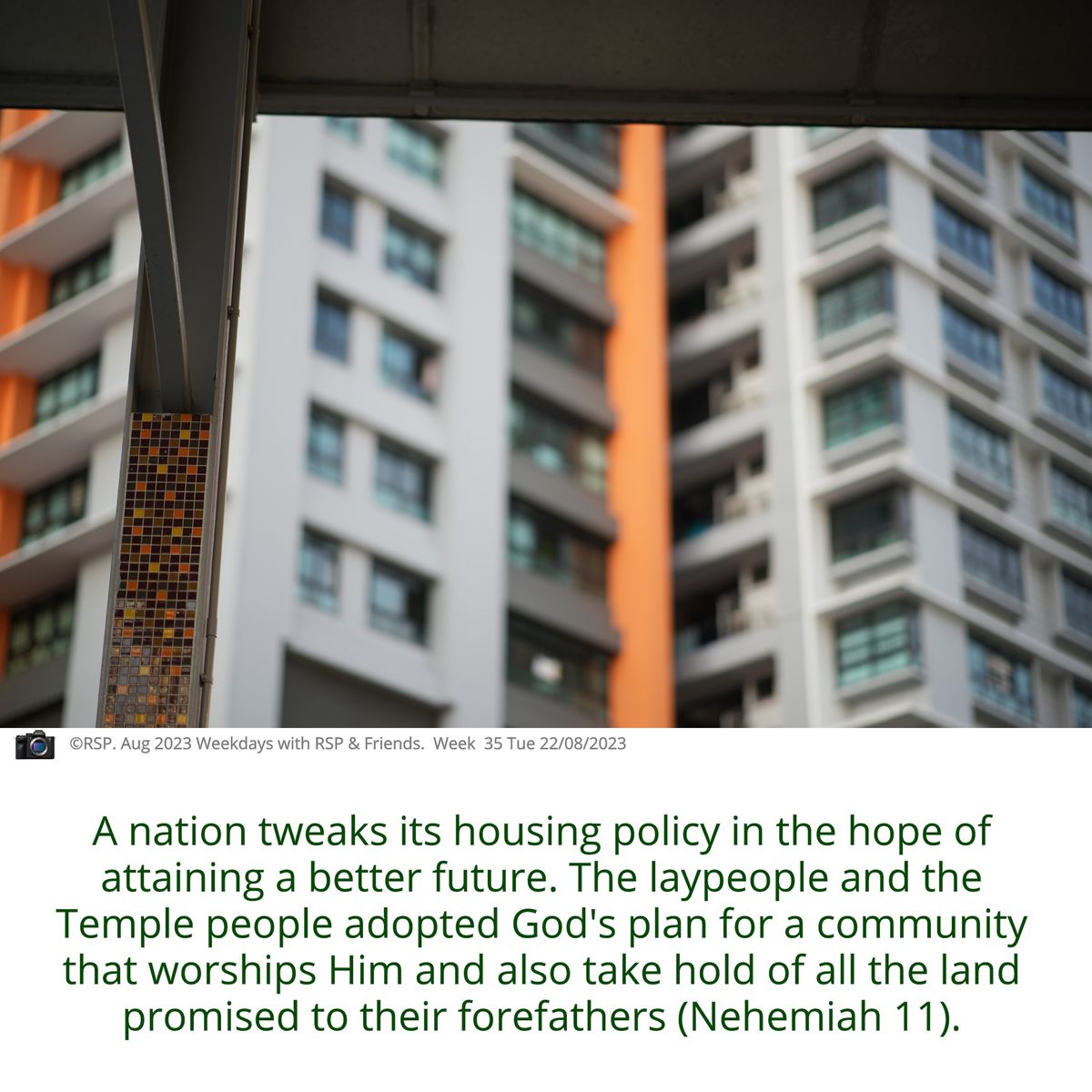 Purpose and Property
https://www.esv.org/Neh11:1–36
Week 35: 22/08/2023. Tue
PM Lee revealed the Standard, Plus and Prime re-categorisations of HDB BTO last weekend, to achieve the aims of affordability, good social mix and fairness. In Nehemiah 11, it was "the rest of the people" who cast lots to select 1 in 10 residents to live in Jerusalem (Neh 11:1), the focus of their religious worship and the nation's centre.
Are there any feelings of being left out, jealousy, elitism or unfairness in this reallocation of residents? Nehemiah 11:2 in fact revealed that "And the people blessed all the men who willingly offered to live in Jerusalem" (ESV). Apparently, those who were reallocated went with the lot "willingly", while those who did not go to live in Jerusalem blessed all the men who did!
A nation tweaks its housing policy in the hope of attaining a better future. The laypeople and the Temple people adopted God's plan for a community that worships Him and also take hold of all the land promised to their forefathers. This brings into greater detail and focus God's faithfulness and ability to bring about what He promised.
Once again, we see that the initiative to populate Jerusalem by casting lots came from "the rest of the people" (11:1). These people have read from the Book of the Law (9:3) and confessed and worshiped (9:3) for considerable lengths of time. Their response to taking in God's Word resulted in obedient community action.
Their actions gave hope for the nation's future, because (1) it was based on a community based study of God's Word (2) cooperation of the people with the Temple people, working with each other rather than against each other (3) their vision of assembled worship in Jerusalem yet managing the whole land that God had given them were balanced, adopted and celebrated by all.
Would you work hard towards this—Work hard to adopt that which is helpful towards this vision, work hard to stop attitudes and habits that which would detract from this shared vision?