Devotion
QT: Why don't convert first? [part3/5]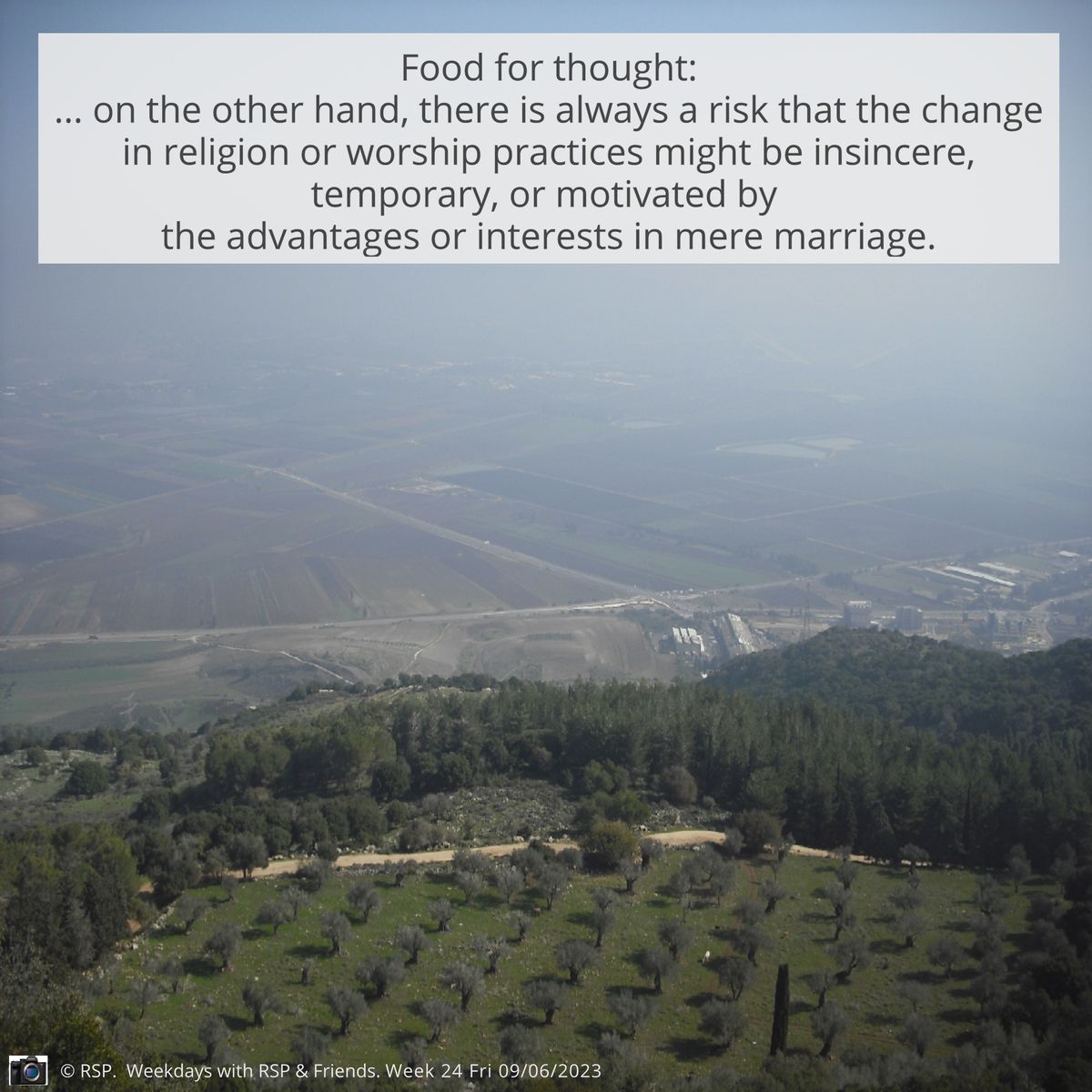 Why don't convert first? [part3/5]
https://www.esv.org/Ezra10:1–17
Week 24: 09/06/2023. Fri
In this 3rd part, we are reminded that the idea of sending away foreign wives was a ground-up idea (10:2–3) initially and subsequently endorsed by Ezra (10:5). While we are not sure why Ezra's community did not offer the chance of conversion before sending away, "conversion so as to avoid being sent away" has always been murkey waters.
On the one hand, we have positive contrasts in the book of Ruth where a Moabitess declared her desire to abandon her ancestral god and worship The LORD instead even when there is NO prospect for marriage within the Israelite community.
Her own mother-in-law seemed convinced by Ruth's resolve to convert. Boaz was free to marry this "foreign women" Ruth. We probably would agree that persons like Ruth (Ruth 1:16—17) or Rahab (Joshua 2:12—14) is more "Israelite" than an Israelite. The editor took pains to portray that Ruth was an Israelite "daughter" (Ruth 2:2, 2:8, 2:22, 3:1, 3:10, 3:11, 3:16, 3:18), endorsed by both men (4:11–12) and women (4:14–15) of Bethlehem.
On the other hand, there is always a risk that the change in religion or worship practices might be insincere, temporary, or motivated by the advantages or interests in mere marriage.
Syncretism and, ultimately, idolatry might creep into the community's families. A person who wants to be known to be "accommodating" or "friendly" might choose to err on the side of believing in a conversion, even recklessly. Some would even "close one eye" when the evidence points to the foreigner being interested in the marriage only and not The LORD.
On the other hand, others, including Ezra's, might be inclined to err on the side of caution, ceasing any breach of covenant or faithfulness to God as soon as possible, as best as possible.