Devotion
QT: And you, Ezra, according to the wisdom of your God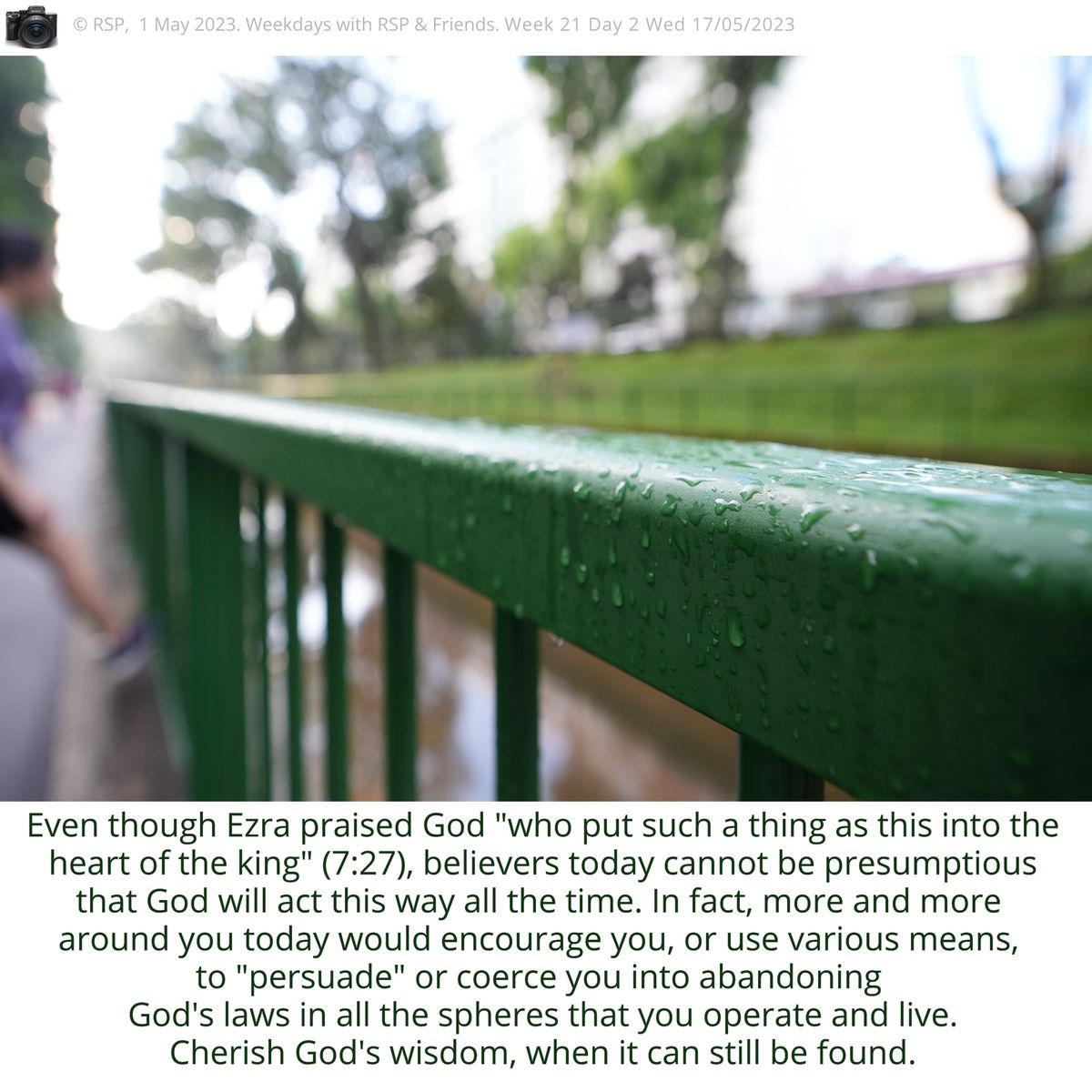 And you, Ezra, according to the wisdom of your God
https://www.esv.org/Ezra7:25–28
Week 21: 17/05/2023. Wed
When surrounding waters seem to overwhelm. When the dead-ends and dead-weights seem hopelessly heavy and suffocating, the "wisdom" of God can change everything. The LORD is God of all, even in "the province Beyond the River" (Ezra 7:25).
It now comes out of a pagan's mouth (king Artaxerxes')–that God's people should trust God because His jurisdiction is over all, even "beyond the river". Our eyes can see no more than 350mm before a small object disappears like a speck of dust.
However, God now works through pagans so that He can ensure that "the laws of your God" and taught to the ignorant (7:25). In fact, the pagan king warned that disobeying the law of God would be met with strict judgment, including death, banishment, confiscation or jail.
That which you failed to do, others would do for you, to your reputation's and legacy's detriment. But thanks be to God, because Ezra and the "leading men" responded positively to second chances and Ezra "gathered leading men from Israel to go up with me" (7:28).
Even though Ezra praised God "who put such a thing as this into the heart of the king" (7:27), believers today cannot be presumptious that God will act this way all the time. In fact, more and more around you today would encourage you, or use various means, to "persuade" or coerce you into abandoning God's laws in all the spheres that you operate and live.
Cherish God's wisdom, when it can still be found.